Monday, 22 June 2020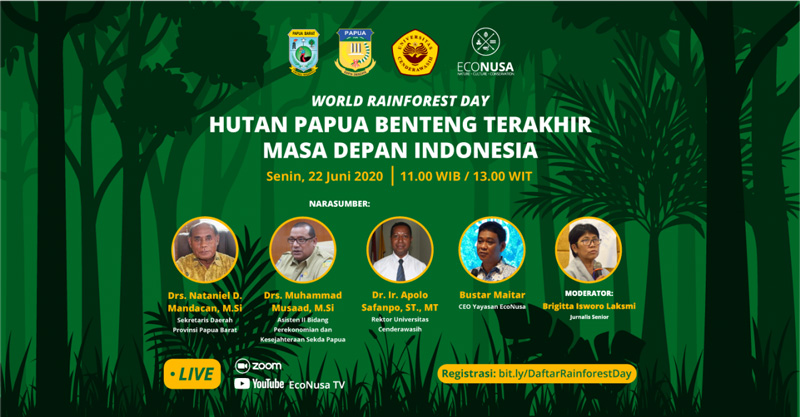 "World Rainforest Day: Papua's Last Forest of Indonesia's Last Future"
Tropical rain forests in the Land of Papua act as a home for various types of flora and fauna with a high level of endemicity. In addition, it is also a source of life for indigenous peoples.
Unfortunately, now the tropical rain forests in Tanah Papua face a variety of serious threats such as deforestation, forest degradation, and forest conversion.

In commemoration of World Rainforest Day, follow the Webinar "World Rainforest Day: Papua's Last Forest of the Future of Indonesia" held on:

Day: Monday, June 22, 2020
At: 11.00 WIB – finished | 1:00 PM WIT – complete
Via Zoom & Youtube channel EcoNusa TV

Registration link:
bit.ly/DaftarRainforestDay

By presenting 4 speakers:
1. Drs. Nataniel D. Mandacan, M.Sc, Regional Secretary of West Papua Province.
2. Drs. Muhammad Musaad, M.Sc, Assistant II for the Economy and Welfare of the Regional Secretary of Papua.
3. Dr. Ir. Apolo Safanpo, ST., MT, Chancellor of Cenderawasih University.
4. Bustar Maitar, CEO of the EcoNusa Foundation.

Moderator:
Brigitta Isworo, Senior Journalist

Do not miss! Immediately register yourself at the link above!