Wednesday, 13 May 2020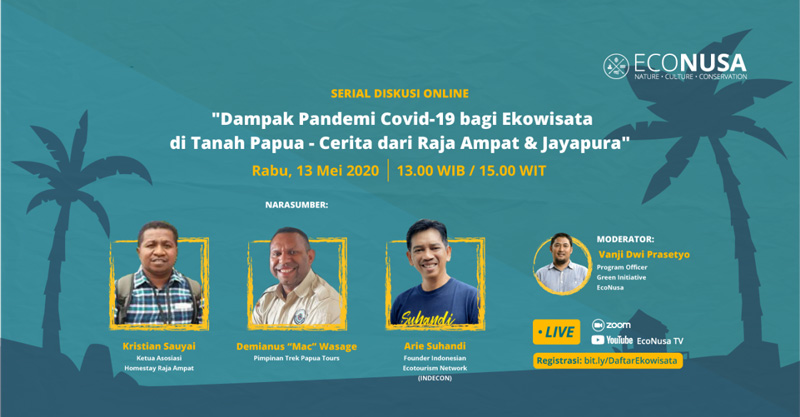 The tourism sector is one of the most affected by the COVID-19 pandemic. However, the community of perpetrators of sustainable nature tourism or ecotourism in the Land of Papua is trying to survive for the sake of the sustainability of the nature tourism business it manages. What to do? Ecotourism actors in Tanah Papua will tell how they dealt with the lonely tourist visits during this period of social restrictions.
Let's follow the story of the ecotourism actors and discuss directly through the EcoNusa Foundation Online Discussion Series themed "The Impact of the COVID-19 Pandemic on Ecotourism in the Land of Papua: Stories from Raja Ampat and Jayapura".
Online discussions will be held on:
?️ Wednesday, May 13, 2020
⏰ 13.00 WIB I 15.00 WIT
?: ZOOM & Youtube (Econusa TV)

Registration: bit.ly/List of Ecotourism

With 3 speakers, namely:
1. Kristian Sauyai, Chairperson of the Raja Ampat Homestay Association.
2. Demianus "Mac" Wasage, Trek Papua.
3. Arie Suhandi, Founder of the Indonesian Ecotourism Network.
Moderated by: Vanji Dwi Prasetyo, EcoNusa Foundation Green Initiative Program Officer.

Register yourself now, let's go! Registration can be done via the link above.