Monday, 16 March 2020
Gedung Auditorium Prof A. Amiruddin, Universitas Hasanuddin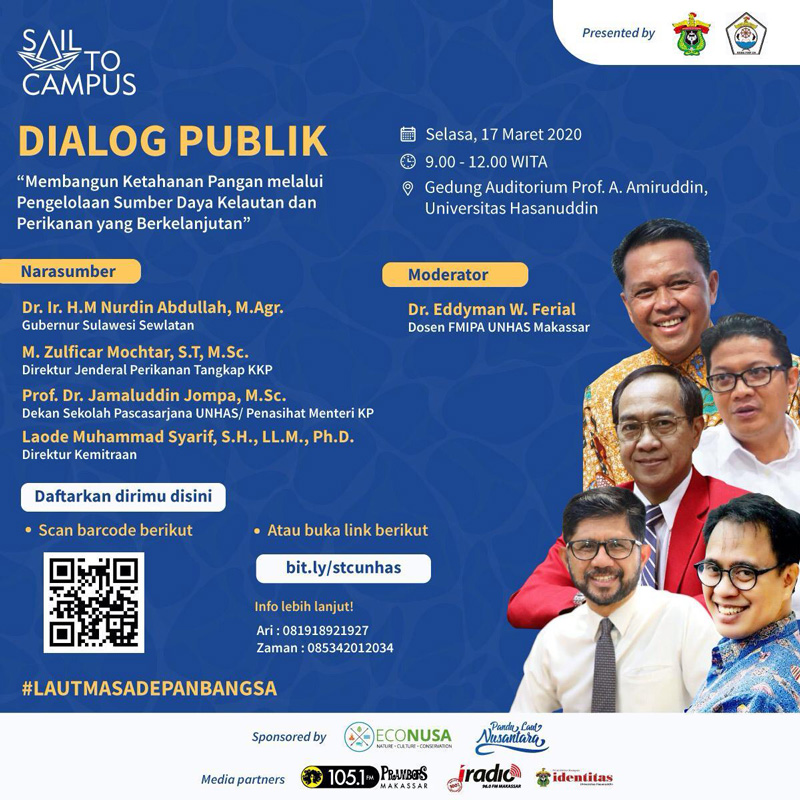 Sail to Campus Makassar: Building Food Security through Sustainable Marine and Fishery Resources Management is delayed until further notice due to COVID-19 outbreak.
South Sulawesi is one of the most significant fish resources in Indonesia, with a total of 3,9 million tons of fisheries production in 2016. Furthermore, it is also one of the provinces in Indonesia with the highest fish consumption with 46.5 kilograms per capita this year. This owes to the fact that South Sulawesi has an influential culture of marine and fishery, they are famously known as remarkable sailors, and one of the National Park there, Taka Bonerate National Park, is known for its' marvelous nautical scenery.
Makassar, the capital of South Sulawesi, is home to five prominent universities that attracted youth from all over Central and eastern Indonesia. Some of the universities in South Sulawesi have a specific faculty in fisheries and ocean management, for example Hasanuddin University, Universitas Muslim Indonesia, and Muhammadiyah Makassar University. In addition, Makassar is also home to many communities and organizations who devoted their life to fisheries and ocean sectors.
However, there's an increasing threat and pressure on the ocean ecosystem. Illegal fishing practices using a bomb, coral reefs destruction, the shift of land use along the coast that destroys mangrove, and the threat of single-use plastic waste.
EcoNusa Foundation, along with Pandu Laut Nusantara, sees the potential of Makassar to hold Sail to Campus. Furthermore, Pandu Laut Nusantara already builds a sturdy volunteer base in Makassar to help strengthen the campaign to protect our beloved ocean.