Wednesday, 08 July 2020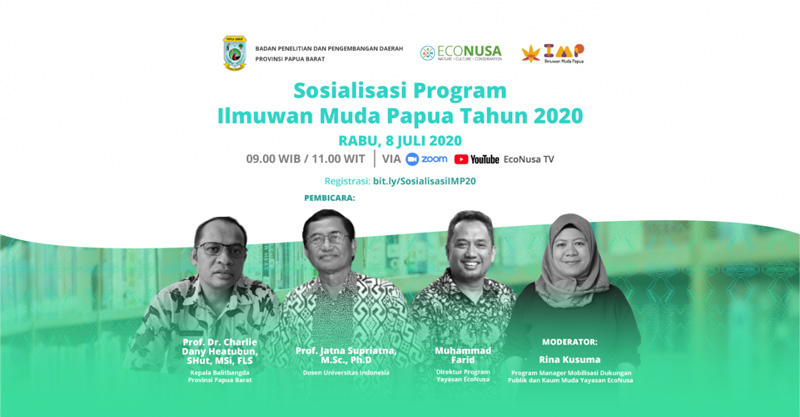 Scientific research is urgently needed to support the commitment of the Provinces of Papua and West Papua as sustainable development provinces. To invite female students in the Land of Papua to become reliable researchers, the Regional Research and Development Agency (Balitbangda) of West Papua Province and the EcoNusa Foundation launched the Papua Young Scientists Competition program.

To learn more about the Papua Young Scientists program for young people in the Land of Papua, the Papua Young Scientists webinar was held.

By presenting speakers:
1. Prof. Dr. Charlie Danny Heatubun, SHut, MSi, FLS (Head of the Balitbangda of West Papua Province)
Material: Manokwari Declaration and Direction of Sustainable Development in Papua
2. Prof. Jatna Supriatna, M.Sc., Ph.D (University of Indonesia Lecturer & Member of the Papua Young Scientist Panel Team)
Material: The Role of the Academic World and Young Generation in Sustainable Development and Climate Change
3. Muhammad Farid (Program Director of the EcoNusa Foundation)
Presentation of the Papua Young Scientist Program

Moderator
Rina Kusuma Program Manager Mobilization of Public and Youth Support for the EcoNusa Foundation

Register yourself through the link
bit.ly/SocializationIMP20