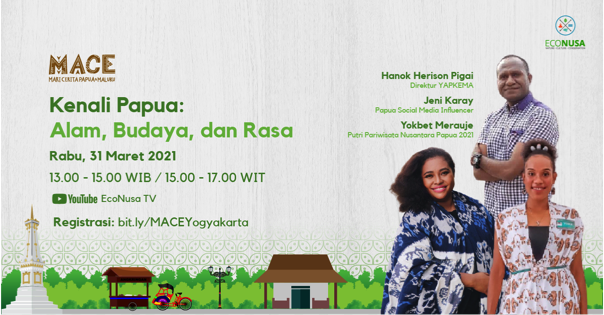 Many of your friends may know Tanah Papua as a little paradise at the eastern tip of Indonesia which is famous for its richness and natural beauty. A paradise of underwater beauty and green forest wilderness. But more than that, Tanah Papua is also rich in culture and a variety of unique culinary delights.
Do not know, then do not love. Get to know more about the Land of Papua with its natural, cultural and culinary diversity. What are the things you want to find out about Papua Land? Come on, find out all things about Papua Land at the Mace Papua & Maluku – Get to Know Papua: Nature, Culinary, and Taste.
This event is held online and is open to all groups. So, don't forget to register and install a reminder so you don't miss the program, huh! Wednesday, 31 March 2021 I 13.00 – 15.00 WIB / 15.00 – 17.00 WIT. See you.