Wednesday, 17 February 2021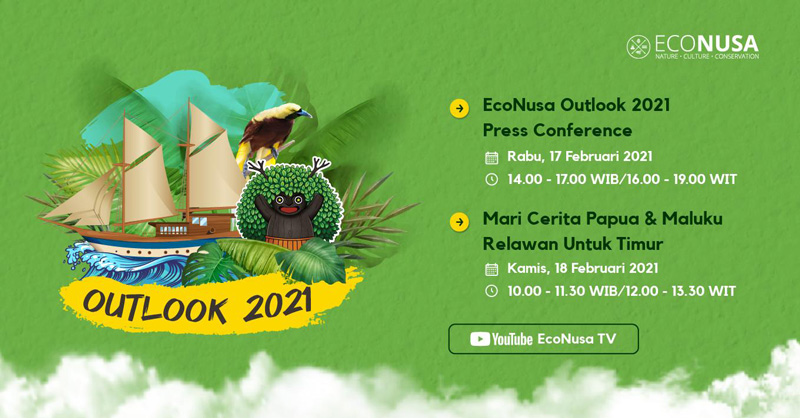 The COVID-19 pandemic is a big challenge for the people of Indonesia, but this has not stopped EcoNusa's steps to continue implementing work programs in Papua and Maluku Islands during 2020.
There are various stories engraved in EcoNusa's efforts to strengthen the resilience of indigenous peoples, realize sustainable development, protect forest and marine ecosystems, and mainstream low-carbon development. All of that cannot be separated from the support of EcoNusa staff and collaboration with strategic partners of EcoNusa.
Now, at the beginning of 2021, EcoNusa wants to continue the journey that has been achieved in previous years. For this reason, EcoNusa would like to invite strategic partners and friends to jointly review the achievements of the EcoNusa program in 2020 and the 2021 work plan in the EcoNusa Outlook 2021.
Interviewees:
1. Bustar Maitar (CEO of EcoNusa Foundation)
2. Torianus Kalami (Chairman of the Malaumkarta Young Generation Association)
3. Beyum Antonela Baru (Coordinator of Lemongrass Planting, Mare District)
4. Pater Apolinaris Miller Senduk, MSC (Director of Caritas Archdiocese of Merauke)
Moderator: Hivanly S. Leha
EcoNusa hopes that it can continue to spread the good news and contribute to encouraging developments in Papua and the Maluku Islands.