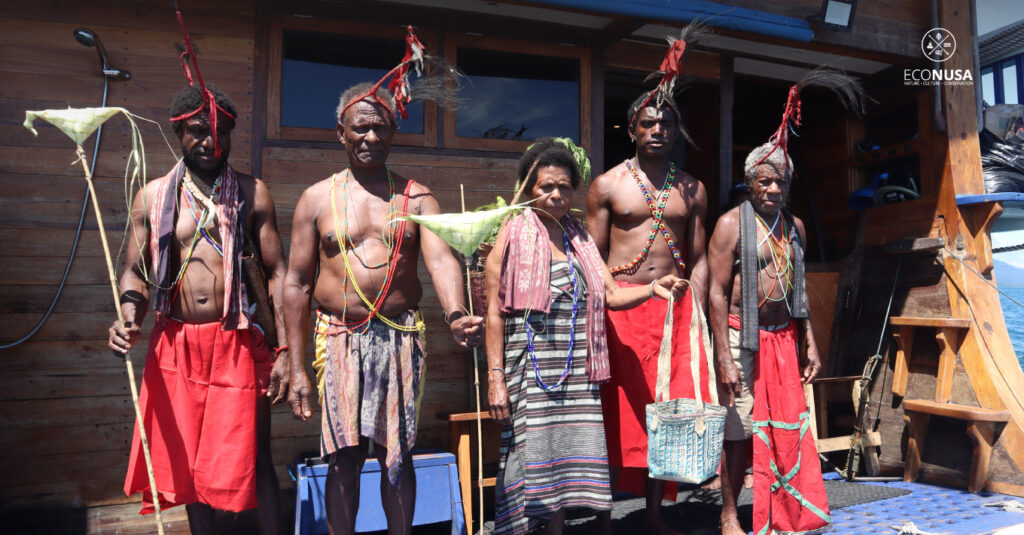 Papua is known for its rich biodiversity and diverse culture. Home for 300 groups of tribes. One of unique and distinctive cultures in Papua is the noken. "Noken is a traditional Papuan craft communities in the form of a rope bag, the way to carry it is worn around the neck, shoulders, or hung over the head on the forehead and then directed to the back," said Fransisco Weridit, Coordinator of the Noken Papua Community at webinar TM Share 267: Noken: Intangible Cultural Heritage from Eastern Indonesia Timur on Saturday, 17 December 2022.
Noken became popular since its recognition from UNESCO as an intangible cultural heritage in 2012. Noken commonly used as a bag for carrying the daily necessities. However, Fransisco said, "A noken is a noken, not a bag or a pouch, and vice versa."
Local communities use Noken more than a bag. They use it to carry their baby, bring crops and as food storage. Moreover, noken is also used in cultural events such as weddings, traditional ceremonies, child initiation, coronation of tribal heads, storing heirlooms, and welcoming guests.
Read Also: Menginang: Caring the Culture, Empowering the Land of Papua
Yurita Fuji, a fashion designer, exhibited noken in London Fashion Week 2018. "Noken can be displayed in the international event not only in terms of design, but the story behind the making of the noken itself," said Yurita.
According to Yurita, promoting noken in international events has its own challenges. One of the challenges is that the raw materials of noken are hard to find. Thus, Yurita are not able to purchase noken in large quantities. The length of use info on a noken also still very limited. "There is a lack of information about the length of use of a noken other than as a bag. However, noken still has great and unique selling points if we could showcase it properly," Yurita said. Yurita hopes noken will not only become a inheritage culture, but also has economic benefits for indigenous communities.
Head of Production Forest Management Unit (KPHP) Unit 56 Boven Digoel, Ade John, has different opinion. According to him, there are many stocks of noken, but the market itself is not that big. This reason is, noken marketed at high prices, around Rp250 thousands until Rp 1 million. So many people are not interested in buying noken, "Noken is not expensive. But the hand-made process of a noken resulted in a high price," said John.
Read Also: Paniai Coffee Nominated as Finalist in Jakarta Coffee Week 2022
Ade John also explained that this year KPHP Unit 56 will carry out the process of tree nurseries which are the raw materials for noken, namely ganemo trees. The nursery is carried out with the local community. Furthermore, it is the community who will continue cultivating so that they can get ganemo bark more easily. Ade John hopes through the pretection of ganemo trees, noken can continue to be preserved. "Because noken is not just a bag, but a cultural symbol as well as supporting life activities in the Land of Papua," he said.
The Noken Papua Community works on noken preserves not only through planting the raw materials but also conducting training for making noken, and programs called Noken Goes to School (NOMASE), that have support by the Ministry of Education and Culture Republic of Indonesia.
Editor: Nur Alfiyah